OP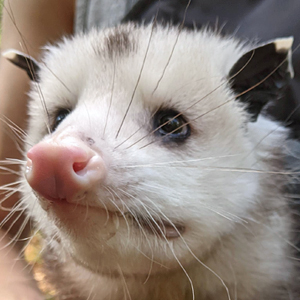 OP came to us last year with a few of his siblings with every intention of them all being released back into the wild. They were just babies at the time; we estimated them to be about 11 weeks old. They had lost their mom after a dog chased her out of the yard, dropping OP and his siblings.
Unfortunately, during rehabilitation, one of OP's siblings chewed off his tail. In captivity, opossums can become cannibalistic. This occurs for a variety of reasons, but was most likely due to overcrowding, being contained or just stress in general. Opossums cannot survive in the wild without their tails so OP was non-releasable and had to stay with us. We love OP so very much and try to give him the best life we possibly can. We would have loved to watch him be released with his siblings, but it just wasn't in the cards for him.
We think he's pretty happy, living a carefree life with food delivered to his door every morning!
🌈 April 5, 2023 🌈
Rescueversary: May 15, 2021