Everest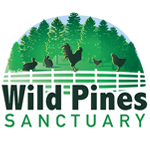 Everest was rescued at the Greenville Humane Society by Tiffany before Wild Pines Sanctuary was officially founded. She was only 2 months old.
She was brought home and was immediately taken to the vet to get a general check up and to have a cough checked out. She suffered from a severe upper respiratory infection. The vet took great care of her and got her on the proper medication. After a long recovery, she started her crazy puppy adventure.
Now, as a grown lady, she prefers to take the back seat when it comes to patrolling with the other dogs. You'll find Everest on a couch nearby asking for cuddles any moment that she can. She loves to give kisses, lots of kisses. And she loves to play fetch. Everest is kind to every single animal she meets and is so nurturing to all of our new intakes.
Rescueversary: October 10, 2019